Technical Specification
Exponential Impulse

Currents

Wave Shape μs

Peak Current kA

Residual kV

Voltage

High current impulse

4/10μs

T1=4±0.5μs

T2=10±1μs

200kA

40kV

Lightning current

impulse 8/20μs

T1=8±1μs

T2=20±2μs

60kA

50kV

Steep current

impulse 1<20μs

T1=1μs±0.1μs

T2<20μs

30kA

40kV

30/80μs current

impulse

T1=25±5μs

T2=80±10μs

60kA

45kV

Switching impulse current 60/100μs

T1=30μs~100μs T2=60μs~200μs

(T2≈2T1)

35kA




2ms rectangular

current

2ms≤Td≤2.4ms

2kA




2.8ms

2.8ms≤Td≤3.36ms

1500A




3.2ms

3.2ms≤Td≤3.84ms

1500A



Application
H Type impulse current test system can generate different types lightning impulse current shapes such as 4/10μs, 8/20μs, 1<20μs, 30/80μs, 60/100μs , long duration current according to the customers' requirement. Modifications can be applied according to the request of our customers.
This type of test system is especially to test the metal oxide surge arresters.
Standards
IEC60099-4, GB11032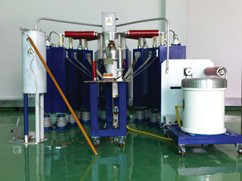 120kA 4/10μs & 80kA 8/20μs
Advantages and Features
(1)Stable structure withstanding earthquake and strong winds
(2)Low inductance and average current in every capacitor
(3)High charging voltage up to 200kV and the total energy up to 200kJ and more
(4)Reliable and precisely controlled triggering unit by power pulse
(5)Protective earthing system for safety
(6)Shape resistors designed for low inductance and connected by easy joint
(7)Specially designed circuit available for different shapes.
(8)Easy operation with the console based on PLC module.
(9)Special solutions to customer's problem and special requirement