Technical Specification

Model No

Rated

kV

Voltage L.I.

1.2/50μs

Rated

kV

Voltage S.I. 250/2500μs

Rated Capacitance

pF

GVD-400/300

300

240




GVD-400/400

400

320

 

300~600

GVD-400/600

600

480




GVD-300/800

800

640




GVD-300/900

900

720




GVD-300/1200

1200

960




GVD-300/1600

1600

1280

 

300~1000

GVD-300/1800

1800

1440




GVD-300/2400

2400

1920




GVD-400/3000

3000

2400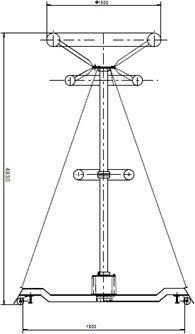 1200kV 400pF Voltage Divider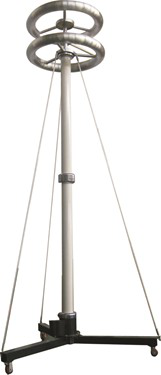 1200kV 400pF Voltage Divider
Dimensions & Weights
| | | | |
| --- | --- | --- | --- |
| Model No | Diamater of corona ring (mm) | Height (mm) | Weight (kg) |
| GVD-400/300 | 600 | 1600 | 75 |
| GVD-400/400 | 600 | 1800 | 120 |
| GVD-400/600 | 600 | 2200 | 150 |
| GVD-300/800 | 900 | 2500 | 200 |
| GVD-300/900 | 900 | 3600 | 220 |
| GVD-300/1200 | 1200 | 4375 | 310 |
| GVD-300/1600 | 1600 | 5800 | 680 |
| GVD-300/1800 | 2200 | 7380 | 900 |
| GVD-300/2400 | 2200 | 8035 | 905 |
| G | | | 1420 |
| G | | | 1800 |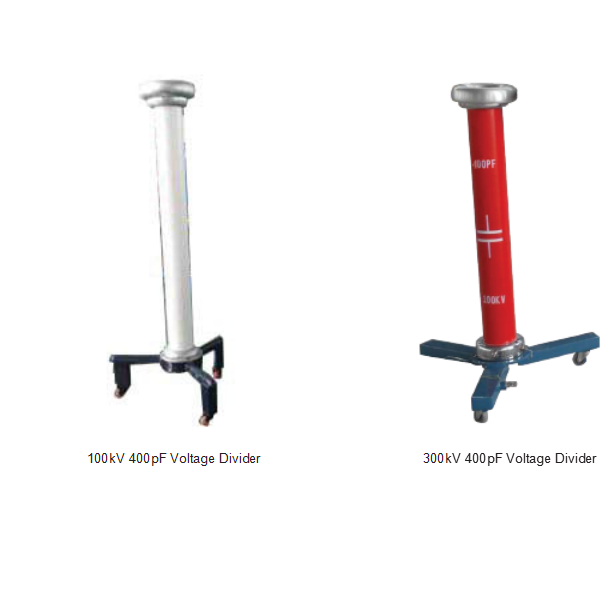 Application
GVD series weak damped-capacitive impulse voltage divider are used to measure high voltage full and tail chopped lightning and full switching impulses. Provided with an adequate additional secondary part, it can also be used for alternating voltage measurements.
Standard

IEC60060-2 High-voltage test techniques Part 2: measuring systems
Technical Specification

Design

The voltage divider consists of several stages of impulse capacitors connected in series. The weak damped resistors adopt the multi-stage layout, impulse capacitors are of no inductance, low voltage arm consists of non-inductive leaded multi layer ceramic capacitor.
The HV arm is installed on the basis of removable metal plate with wheels. The secondary unit includes a capacitor and a damping resistor of low inductance both arranged in a coaxial design. The unit is fixed at the bottom of the voltage divider and can be easily exchanged.
There is corona rings on top to avoid abnormal flash over or discharge when the impulse test is being carried out.