Technical Specification
Model No.

Maximum

chopping

voltage

Related

impulse generator

Number

of stages

HV

capacitance

HV

damping resistance




kV

kV




pF

Ohm

GTJB-600

600

800

3

300/400

75

GTJB-800

800

1000

4

300/400

100

GTJB-1000

1000

1200

5

300/400

125

GTJB-1200

1200

1600

6

300/400

150

GTJB-180

1800

2200

9

300/400

225

GTJB-2400

2400

3000

12

300/400

300

GTJB-300

3000

4800

15

300/400

225
Trigger range




General




for time-to-chop

2-6μs

Relative humidity

<90%non-condensing

for unchanged gap

spacing, negative polarity

approx. 20 %

Operating

- 5 ... + 45 °C

for unchanged gap

spacing, positive polarity

approx. 10 %

temperature

Storage temperature

- 15 ... + 45 °C

with variable gap

setting, both polarities

30 % to 100 %Un

Height above sea level

<1000 m

with short circuiting of

stages and variable gap

20 kV to Un





Application
The GTJB multiple chopping gap can be used for chopping of lightning impulse voltages between 20 kV and 3600 kV. The chopping can be realized at the front or at the tail of the impulse.
It serves simultaneously as a load capacitor for the impulse generator and allows excellent reproducibility of the chopping time and does not distort the wave shape until the chopping point. It is for indoor operation and mobile design.
Advantages and Features
(1)Automatic adjustment of the sphere distance by the controls
(2)Display of the gap distance on the control desk
(3)With a manual control box to adjust the gap distance standalone.
(4)Usable for some applications as a voltage divider with an additional secondary unit the chopping gap.
(5)Equipped with toroid electrodes made of brushed aluminum
(6)With wheels at the base frame for easy movement.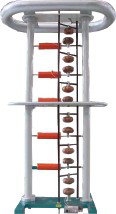 1200kV Chopping Gap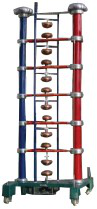 1200kV Chopping Gap