Application
The R type long-duration current impulse test system can generate long duration impulse current according to IEC60099-4.
It also can be used as MOV production line for continuous quality test in MOV plant.
The test system can test the metal oxide block (metal oxide surge arrester of class 1,2,3,4 and 5.)
The system can be designed in various purposes for meeting customers' special requirements. Some special solutions & designs allow adapting the impulse test system on different kind of test objects.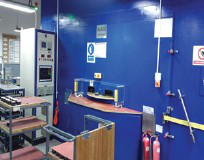 Advantages and Features
(1)Reliable and precise triggering unit by pulse amplifier;
(2)Automatical polarity change;
(3)On line 24 hours per day and 365 days per year.
(4)Over-voltage protection, over current protection and fast voltage transients protection
(5)User-friendly & automatic control system with touch panel.
(6)Measure the test data, analysis and generate waveforms in the LCD screen.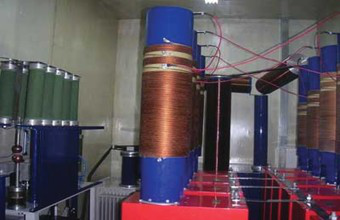 2ms 1kA for Epcos
System Configuration
The test system includes the below main components: Primary electrical cabinet High voltage DC charging unit
Main body including capacitor bank and inductor Console Measuring system
Rotating disk with motor driver Pneumatic Holdings for MOV disk Safety interlock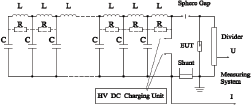 Electrical Diagram

For product line use
Automatic Rotating system
The automatic rotating system includes the index plate, servo motor and pneumatic device.
The pneumatic device is controlled by the console automatically and can fix the metal oxide block in place.
There are totally 6 holders in the index and each holder can hold one or two samples.
For each size of the block with different diameters, the holder's sizes are different.
Our holders are suitable for holding the metal oxide blocks with a diameter of 40mm, 48mm, 64mm, 76mm and 120mm.
The interval time between two impulses can be set and the min. interval time is 15 seconds.
There is an emergency button stop button for safety on the front panel.