Application
Steep waveform generator units are used to generate the steep wave front waveform. They comprises of one steep waveform generator gap unit and resistive voltage divider.
The gap unit consists of sphere gaps, transmission gear, capacitors and corona rings, which are mounted on the rectangular metal base.
The resistive voltage dividers are for indoor operation and applicable for the measurements for full and front chopped lightning impulses or impulses voltages with steep wave fronts. It can't be served as a load capacitor for the impulse generator.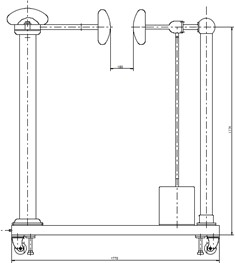 600kV Steep Waveform Generator Unit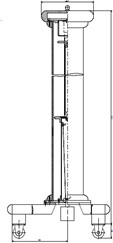 600kV Resistive Voltage Divider
Advantages and Features
(1)The gap distance is adjusted through the transmission gear, which can be controlled from the console.
(2)The gap distance and charging voltage should be adjusted to achieve the satisfactory steep front wave forms.
(3)The dividers are equipped with top HV electrodes to guarantee corona-free operation and castors at the bottom for easy movement.
(4)The high voltage dividers are housed in cylinders made from glass fibre enforced epoxy resin.
(5)The secondary unit at the bottom of the dividers consists of resistors of low inductance arranged in a coaxial design and is fitted with LEMO connector. The unit can be easily disassembled.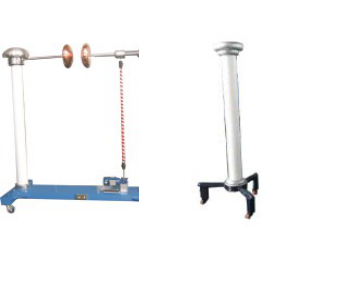 600kV Steep Waveform Generator Unit
Advantages and Features
Insulator type Nominal voltage

Steepness

Front time

Standard

Composite suspension ≥1000V

and tension insulators

≥1000kV/μs

—

IEC62217 ,

IEC61109




Insulators of ceramic ≥1000V

material or glass for overhead lines

≥2500kV/μs

100-200ns

IEC61211

<5 ns



Type

Rated L.I.

voltage

HV resistance

Damping res.ext.




1.2/50μs

kV

Approx. kΩ

Approx. Ω




RVD600

600




7.5

200




RVD800

800




7.5

200




RVD1000

1000




7.5

200




RVD1200

1200




9.0

200




RVD1400

1400




10.5

200




RVD1600

1600




12.0

200




RVD1800

1800




13.5

200




RVD2000

2000




15.0

200